Today, even more than before the energy crisis, companies are looking for ways to increase efficiency and save money wherever possible, ideally in the form of thoughtful investments. In our company, we have long-term focused on optimising and developing purchasing processes to offer customers an even faster service for obtaining electronic components and PCBs. Our purchasing department's basis is working with the Helios Nephrite information system, which automates the department's regular activities as much as possible. Regardless of the retrospective analysis of data that can track price developments in the parts market.
Expansion of warehouse space
The expansion of warehouse space, which took place in recent months, is related to the creation, as mentioned earlier, of strategic stocks and another great way to increase the efficiency of the purchasing process. Furthermore, it allows frequent material to be kept in-house and shortens the time required to prepare the assembly of printed circuit boards. The decision also included a personnel increase, which resulted in innovations in the field of material organisation for production, i.e. inventory management, material storage and tracking of components across production.
Cloud comparison platform
To be able to respond quickly to customer requests and obtain the parts they need, we use the CalcuQuote system. "CalcuQuote is a cloud-based procurement platform providing a comprehensive RFQ management solution. The platform helps us find the best prices for components from domestic and international sources. It allows you to create a new project with the necessary information in a simple and intuitive interface, import a bill of materials, and prioritise contracted suppliers. It also works with the discount system. As a result, we remain in contact with a portfolio of verified suppliers, as the quality of the supplied components is important to us," said Petra Aujeská, buyer at SAFIRAL.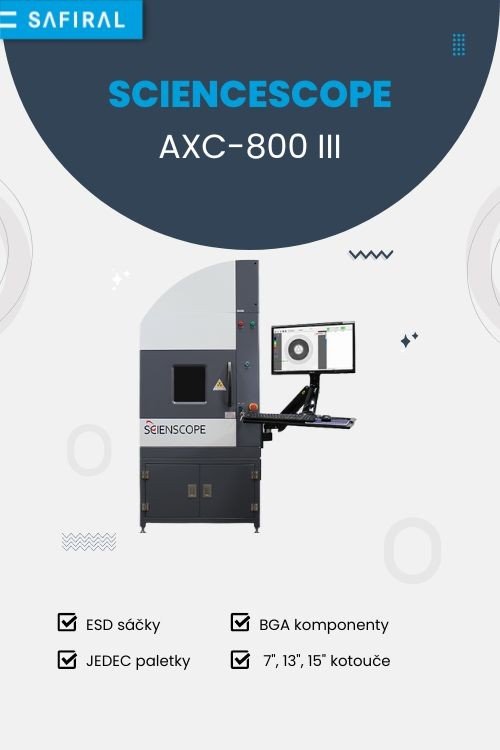 Expansion of machinery with Scienscope AXC 800III
An essential investment by Safiral was also the purchase of a Scienscope AXC 800III X-Ray Component Counting. The Scienscope AXC 800III is a powerful tool that allows you to count parts quickly and accurately. We discussed the device in more detail in the article on the terms of delivery of customer material.
Ambition in the new year 2023
Of course, the purchasing process should be further developed according to the purchasing department team's recommendations and the management's strategic decisions. It was still maintaining the so-called up-to-date means of getting to know the news in the field and investing in employee education. Last but not least, complete the renovation of the premises, thanks to which it was possible to increase the storage capacity and invest in modern equipment. We should have mentioned the logistics related to the movement of components in the previous text. There was also a personnel increase here, which opened up opportunities for us to review the current management and search for more favourable solutions for our customers and us.