After and during the PCB mounting phase, electronic devices can be inspected or tested using a combination of automated and manual processes. Boards should not be produced with a hidden defect - for example, based on an undetected design error in advance.
What are the basic procedures behind DPS testing?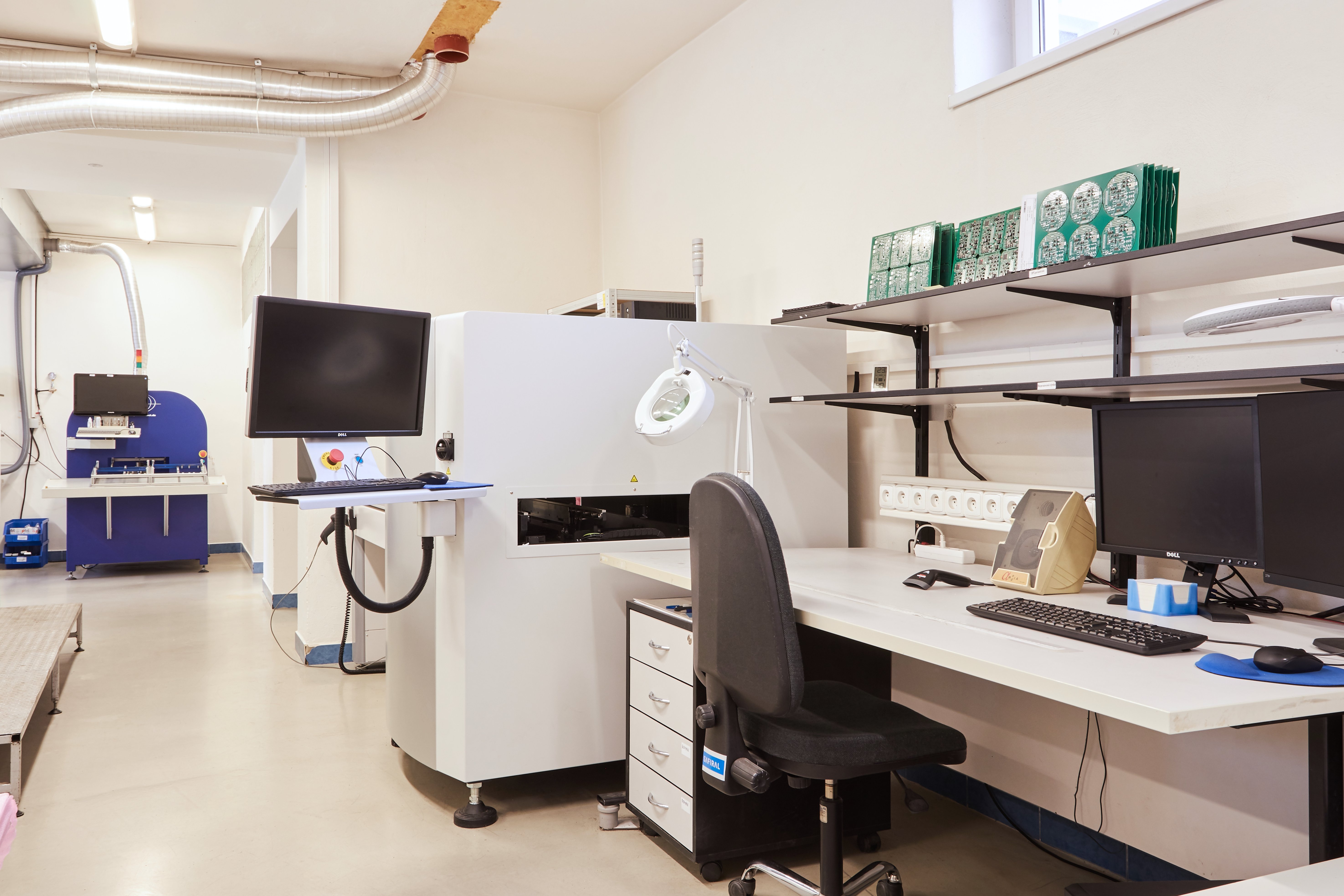 Fully automated inspection with the SAKI 3Di-LS2-A 3D AOI (Automated Optical Inspection) device
AOI uses a combination of 2D and 3D inspection technologies to detect various types of defects, including:
missing components
their incorrect location
raised conductors
defects of soldered joints
AOI has multiple cameras and laser sensors to capture images of the PCB from different angles, enabling the detection of defects that may not be visible with traditional 2D inspection methods. The program compares photos of your board with a detailed diagram.
AOI can be useful for early detection of problems to ensure that production is stopped as quickly as possible. However, it does not revive the board and may not have 100% coverage for all component types.
The AOI 3Di-LS2-A include high-speed inspection - up to 100 cm² of PCBs per second can be inspected. Other device functions include checking the height and shape of the components placed on the PCB. In addition, the AOI 3Di-LS2-A uses advanced algorithms to analyze inspection data and minimize the number of false alarms, reducing the need for manual inspection and subsequent rework.
In practice, we should rely on more than automated optical inspection but combine it with another test. A frequently used combination is AOI and ICT or AOI and functional testing.
Optical inspection of mounted printed circuit boards is included in the comprehensive price offer you will receive from us. It is an automatic and nowadays standard part of our production process.
X-ray inspection with X-ray system Sciencecope X-Scope 3000
X-ray inspection (also AXI) makes it possible to detect defects that may not be visible with other test methods. The Sciencecope X-Scope 3000 X-ray inspection system uses a combination of X-ray technology and advanced image processing software to provide detailed images of the internal structure of electronic devices.
The X-Scope 3000 can produce high-resolution images down to 1 micron, enabling the detection of microscopic defects. Soldered joints or usually hidden elements, such as BGAs with joints under the case, are inspected. The X-ray detects possible short circuits before connecting the voltage and thus preventing damage to the component or the entire assembly. The device supports multiple inspection modes, including transfer mode (remote view), oblique mode (at an angle), and laminography mode. Inspection of TH and SMD components for surface mounting is a matter of course.
Overall, the Sciencecope X-Scope 3000 X-ray inspection system is a powerful tool for detecting defects in electronic equipment and ensuring its quality and reliability. Although this inspection can be beneficial, it requires trained and experienced operators. It is essential to check each layer of the board. It is a time-consuming process.
If you want to use the X-ray inspection service for your products, please include this information in the inquiry addressed to the sales department. The service is charged at 160 EUR/hour. In the case of a request to check the PCB in the order of pieces, the price is set at 8 EUR/frame.
Testing and checking directly in the production line
A partial electrical test and an optical inspection can be part of the program of setting or printing machines. However, this is not standard equipment, but rather the opposite, and you must verify their existence with the EMS service provider. The mounting devices and JetPrinter of the Mycronic brand are implemented in our company SAFIRAL. They offer optical control of printing and components combined with their mechanical positioning. We also measure components' capacity, resistance or voltage according to predetermined values.
Funkcional Testing
During this type of testing, the functionality of the entire PCB is checked according to a predetermined individual procedure. It is a particular service respecting the needs of the client. The test is usually performed using a device that simulates the natural environment in which the device will be used. An integral part is delivering the necessary software or external test station to the customer. Our operator (tester) is professionally trained in the testing process. The result is then regular reporting with traceability or immediate data sharing.
The functional testing service will be especially appreciated by customers during the implementation of a complete order, the so-called "out of box" when the final product from us goes directly to distribution. Functional testing is required to switch on (revive) the electronic device to work without problems.